One thing that we've seen some of our clients embracing more during the pandemic is the idea of the digital receptionist. It's been brought to the forefront lately because of the desire to limit contact during the pandemic. However, there are several potential benefits.
What is a digital receptionist?
Many of you may have seen some for of this by this point. The basic idea is that you replace that human at the front desk with an IPAD or similar device. When someone walks in the lobby, they can click a button to indicate if they are there to visit an employee, deliver a package, deliver food etc. They can then contact the person in question with a few clicks on the device.
Looks something like this.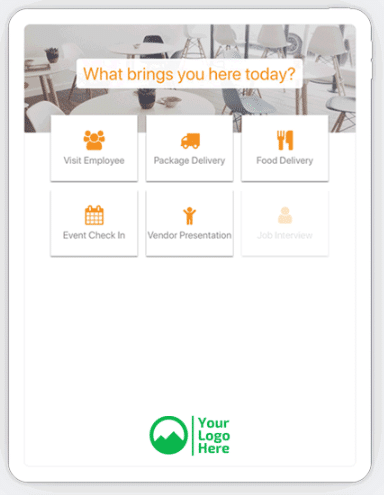 Additional functionality
Some other cool features that we've seen are the ability to print out a custom visitors badge right on the spot based on the information provided, and chat directly with users. We like Greetly because it will integrate directly with Microsoft Team. That way when you send a message to the user it will pop up in their Microsoft Teams app on their computer or phone to let you know your visitor is there. It makes communication seamless and simple for users.
Business Case
Many businesses during the pandemic have looked to a service like this one to do contactless greeting and reduce contact. It can help there. If you are paying a full-time receptionist to check folks in most of the day, the cost savings can be considerable. Think about what that employee could do for you if you reassigned them and had them focused on other tasks besides simply checking folks in at the front desk.
There is also some great convenience in having a solution like this available. People are getting used to self-service check in, and don't view it as an inconvenience.
We like finding solutions
Technology can solve a lot of your business problems. The experts at i.t.NOW love to work with our clients to solve business problems with creative technology solutions. If you have a business problem you're looking to solve with technology, contact us today!