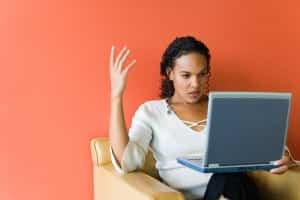 Chances are very high that wherever you work you will need to perform basic computer tasks. Entry level jobs that require computer knowledge include receptionist, data entry, clerk, human resources and customer service.7
So you may not be a computer whiz, but you know how to do "some stuff." How much is enough to get a job? Here is a starter checklist.
Printer/Copier/Fax – They have been around for a while now, but surprisingly many do not know how to use them. You should be able to:
Print documents to a specific printer even when there are multiple options.
Change the printing options like black & white or color, paper size, collated or not, etc.
Choose options on a copier: enlarge or shrink, run a project. (Many copiers now have more advanced options, like being able to fax and scan documents to various sources.)
Make a fax cover sheet.
Send fax using gmail. You can learn about it on https://www.gmailfaxhelp.com/tutorials/google-fax-number
Solve basic problems if the machine isn't working correctly.
Internet – It seems like not so long ago that the world wide web was a new and fun luxury. Now it is the backbone of society. We rely on it for almost everything. If you don't know how to navigate it, you are way behind. Better catch up! Can you:
Find a specific webpage?
Use search engines (effectively)?
Use the toolbar?
Download a document or file?
Security – Making a security breach is an almost unforgivable blunder. Unintentionally releasing confidential information or allowing a virus to infect the company computers could be enough to lose your position in the company. Make sure you know:
Safe browsing practices
How to protect a computer and websites with passwords
Clear your internet browser's history, cache and cookies
Email – Unless you are still writing handwritten letters to all your friends and pay all your bills by check, you should be very familiar with how to use email. But, just to be sure, check off the following:
Send and receive email
Have your own email account
Attach documents that have been created or scanned in
Software – Most job ads will specify which computer software you are required to know to get hired. Are you:
Able to create a document, spreadsheet or slide presentation?
Familiar with Microsoft Office?
Able to find something specific in a document?
Able to convert file types ?
Send documents to a printer or attach to an email?
Some jobs are willing to fill in some of the holes of your technical education if you at least know a few of these areas, especially if they use higher tech machines since they realize that not everyone knows how to use all the functions. A lot of smaller businesses don't have an IT staff on hand to solve small technical problems. Knowing troubleshooting basics, or how to find them on the web, can be a big help to keep the work flow going. If you find yourself lacking you still have time to learn. Get some experience on your own computer. Look up how-to's on the internet. There is a how-to for everything. The more you know, the more desirable you are for the job.