Beware of Fake Corona Virus Phishing Attack Email
Bad actors are now using the global threat of corona virus and associated panic to steal information and infect targets with ransomware. They are doing this by sending phishing emails that appear to be from the World Health Organization and claim to have information about how to protect yourself from the virus. In reality when you click on their attachment, it will run malicious code on your system. Here's an example of what this phishing email looks like.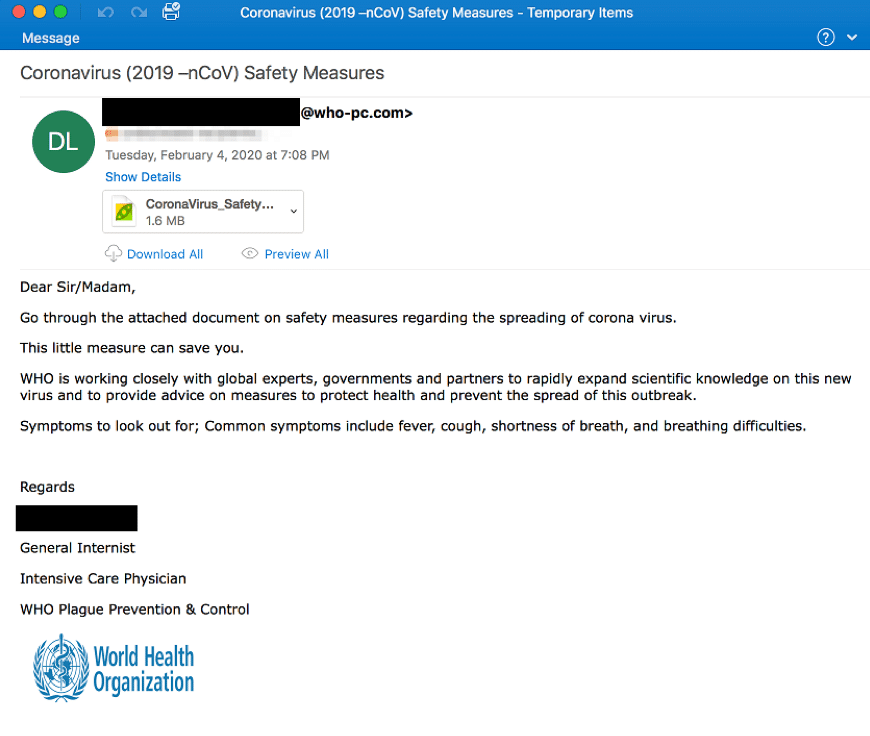 Please be aware and do NOT fall victim to this phishing scam. Here are things to look for.
Look carefully at who the email is actually coming from. They try to use email addresses as close to the actual thing as possible. Examples are email that comes from "cdc-gov.org," rather than the correct "cdc.gov."
Beware of odd-looking attachments. If you hover over the attached file and the file type shown does not match the attachment beware. You should always be suspicious of attachments in an email from an unknown source.
Email requesting any personal information of any kind should also be a huge red flag. Do not respond, and do not click on attachments.
Watch for spelling and grammatical mistakes. If an email includes spelling, punctuation, and grammar errors, it's likely a sign you've received a phishing email. Delete it.
Look for generic greetings. Phishing emails are unlikely to use your name. Greetings like "Dear sir or madam" signal an email is not legitimate.
Avoid emails that insist you act now. Phishing emails often try to create a sense of urgency or demand immediate action. The goal is to get you to click on a link and provide personal information — right now. Instead, delete the message.
We hope this has been helpful. If you find yourself with questions or in need of our help please don't hesitate to reach out to us here at i.t.NOW.