Buyers Guide for Legal Billing Software
To attorneys, time is money.  This is literally the case for many attorneys as they bill hourly.  Sometimes the hassle of keeping track of billable hours and creating invoices for clients can be a time suck and hurt profitability.  Most firms use time and billing software to make it easier.  How do you know which is the best fit for the needs of your firm?  The answer really depends upon your needs and the features that you will use most.  We've compiled some data from relevant sites that review software as well as tried to identify key questions you can ask to make sure you get the right fit.  This is our buyers guide for legal billing software.
What is Legal Billing Software?
The audience that will read this has a good idea of what time and billing software is.  I'll borrow a brief description from G2.  "Legal billing software ensures lawyers and law firms collect payment for their time and effort. These billing systems are optimized for the law profession and incorporate features like time tracking, invoicing, and some accounting capabilities. Legal billing software often integrates with case management systems and larger accounting platforms in order to keep a holistic picture of who's man-hours are contributing to which cases and where a firm has yet to reconcile debts."
Legal Billing Software Stand Alone vs Practice Management Suites
One thing you'll need to decide early on is whether you need a simple solution for legal billing or a more comprehensive solution for practice management.  If you need case management, document management, or contact management functionality in addition to time tracking and billing, you should investigate practice management suites. Examine the casework you do most often.  If you find yourself with complex needs requiring a more inclusive functionality set practice management suites might be the way to go.
Buyers Guide for Legal Billing Software – Feature Set
Once you've decided if you need time and billing software vs. practice management, you'll want to take a good look at the feature set.  The guys over at Software Advice have done a great job summarizing features, so I'll share what they wrote.
Time Tracking Functionality
| | |
| --- | --- |
| Calendar | Calendar may be included, or software may integrate with a calendar application (e.g., Microsoft Outlook). Events created in your calendar can automatically feed into calculations of billable hours. In some systems, calendar information can be used to fill in gaps in billable time. |
| Multiple fee schedules/billing arrangements | Allows users to bill time in hourly, contingency, transactional, user-defined, flat fee (monthly, annual or user-defined), retainer fee and split fee increments. |
| Billing rates by timekeeper level | Allows users to bill by timekeeper level: e.g., individual attorney, partner, associate, practice area type and client levels. Primarily used by larger firms. |
| Automated time capture | Draws on calendar data, documents and tasks to fill in gaps in your billable time. |
| Stopwatch timers | Users can set timers to track each minute of billable time. |
| Activity codes | Allows users to assign activity codes to billable time, including the codes established by the American Bar Association (ABA). Users can also define their own codes. |
| Expense tracking | Allows users to track expenses associated with clients' accounts. |
| Missing time reporting | Allows the system to report on gaps in your billable time. |
Bill Preparation and Payment Functionality
| | |
| --- | --- |
| Client invoicing | Automatically generates client invoices based on the billable time recorded in the system. Bills can be delivered via email, or electronically in Legal Electronic Data Exchange Standard (LEDES) format. |
| Customizable invoice templates | Allows users to customize invoices with their firm's logo. |
| Past due notices | Automatically notifies clients when bills are past due. Some systems can also calculate late fees automatically. |
| Low retainer reminders | Sends automatic notices when clients' retainer fees are getting low. |
| Credit card processing and EFT | Some systems allow users to accept credit card payments. Other systems allow for electronic fund transfer (EFT) payments via automated clearing house (ACH) processing as well as PayPal gateways. |
General Ledger Functionality
| | |
| --- | --- |
| Client account balances | Users can record invoices and payments and maintain account balances for all clients. |
| IRS filings | Automatically prepares IRS filings on the basis of information stored in the system. |
| Trust accounting | Allows users to manage trust accounts for clients and even author checks within the system. |
| Interest on Lawyer Trust Accounts (IOLTA) Accounting | IOLTA, which helps raise money for legal aid for those in poverty via interest earned on client funds, entails special accounting requirements that you can manage with your software. The software protects against accounting mistakes and automatically records paper trails in case of an audit. |
| Financial reporting | The system can automatically generate reports on information such as outstanding balances and client inactivity. |
If you're looking for an easy way to get a matrix of your top contenders and compare features side by side the guys at software advice make it easy.  Check out their site here where you can make your own side-by-side comparisons to see who comes out of top.
Integrations
Another important thing to consider when evaluating different legal billing software is their ability to integrate with other software you may use.  Some solutions will have a general ledger built into their feature set and some won't.  It may be necessary to ensure that your time and billing software integrates with your accounting solution such as QuickBooks or Sage. In addition, you may want to look at how they interact with calendars and email.  Most will have built-in integration with Exchange and Gmail, but they don't always handle it the same way.  Take the time to understand how the software interacts, as this may change how you work. Depending on your firm and the casework you do there may be additional integrations to consider.  Please take this into account.  Missing a key integration could leave you with manual entry that will cost you valuable time and limit the benefits of the new solution.
Visual Market at a Glance
G2 did a great visual representation of the different software products in this space I'll share as well. Worth checking out their website. Some great tools on there to help as you research options.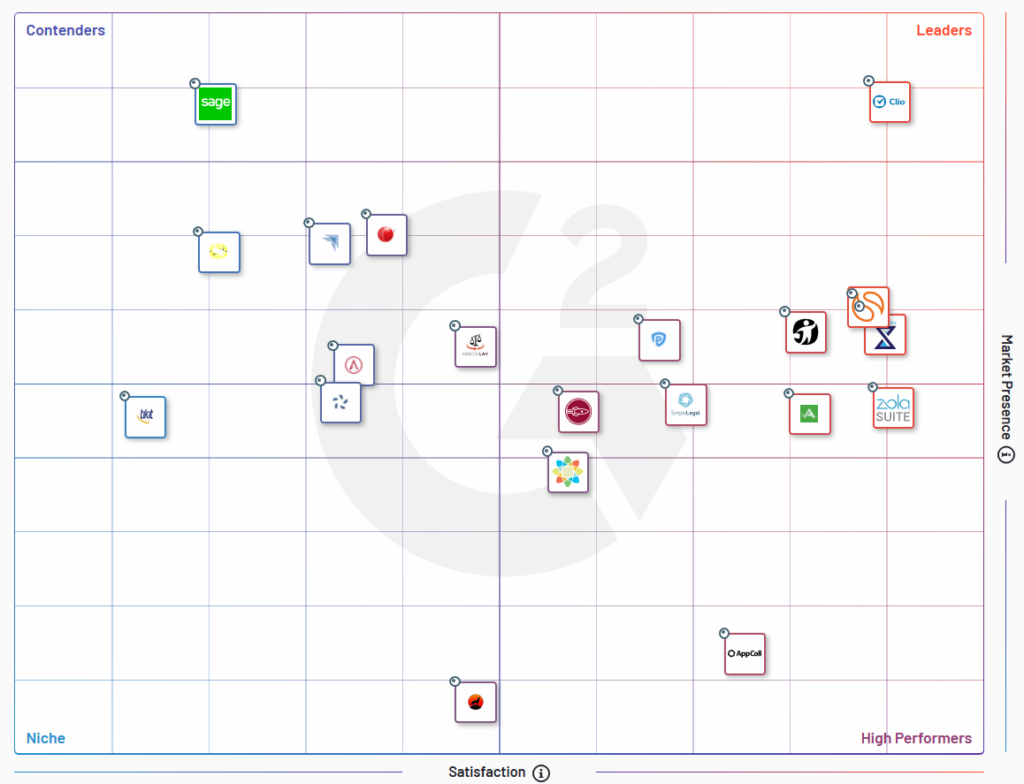 Pricing
Once you've decided on the feature set you need, pricing is the next consideration.  Most of the time billing software solutions are web-based at this point, and so most are billed on a per-user/mo basis.  There are tons of options and the billing can vary quite a bit, but I'll give you some generalities. The pricing looks like a bell curve and starts on the low end at around $16/user/mo and tops out at around $99/user/mo depending on the software.  Essentially you have three pricing groups identified by the guys at Capterra.  Approximately 25% of solutions are in the low group, 50% are in the middle group, and 25% are in the high group.
That gives you a good idea of what the market looks like and what you can expect to pay a fair price. There are other pricing models as well.  Some legal billing software is server-based and still gives you an option to make an outright purchase instead of a monthly charge.  While this may look attractive on the face of it, the functionality of these products may be VERY different.  In our opinion, there is a lot of value in being able to get to your solution anywhere from a web browser. In addition, pricing is rarely straightforward.  It's recommended that when you have identified your top contenders for the solution you reach out to their sales staff, discuss your specific situation, and get pricing in writing directly from them.
Support
i.t.NOW has supported various time and billing software products.  Some common ones we've seen are TABS 3, Timeslips, Rocket Matter, and Clio.  With that said we're happy to work with the software manufacturer to support any of the many products out there. We're confident we can help you leverage the best in today's software and streamline your processes to increase efficiency as a firm.  We hope that you've found this buyer's guide for legal billing software informative and time-saving in helping you select the best fit for your firm.  We're happy to consult with you on this and all your technology needs.  i.t.NOW has been assisting law firms with all facets of IT and technology for 20 years.  Call us today for a free consultation!
Oops! We could not locate your form.