Businesses should always be on the lookout for ways that they can increase their security posture.  Microsoft is aware of this and wants to help.  They've created some built in functionality within Office 365 that assists organizations in improving their security.  Here's what it is and how it can help your business.
What is Microsoft Secure Score?
Microsoft Secure Score is a measurement of an organization's security posture, with a higher number indicating more improvement actions taken…. Secure Score helps organizations:
Report on the current state of the organization's security posture.
Improve their security posture by providing discoverability, visibility, guidance, and control.
Compare with benchmarks and establish key performance indicators (KPIs).
MSS allows you to easily see which security changes will have the biggest impact. This allows you to prioritize them first, and then continue to items that also help but may be of lesser importance.
Additionally, it shows you metrics and trends. You can see improvement over time, or even if changes have caused your score to decrease. If certain suggested changes aren't possible with your environment, you can mark them as "risk accepted". This allows you to see at a glance that you're aware of the suggestion, but just not able to implement it at the current time.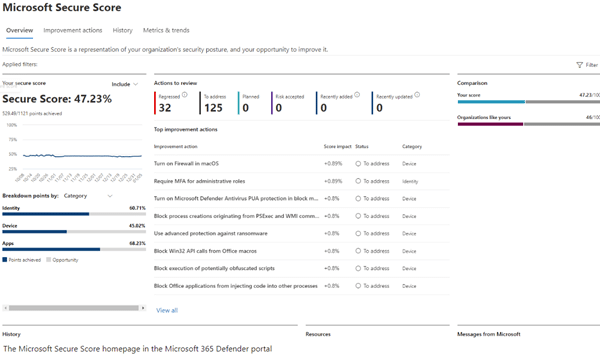 Improving your Score
You improve your security score by working through each of the suggested security changes. Once a chance is made the system will update your score every 24 hours.
You're given points for the following actions:
Configuring recommended security features
Doing security-related tasks
Addressing the improvement action with a third-party application or software, or an alternate mitigation
Some improvement actions only give points when fully completed. Some give partial points if they're completed for some devices or users. If you can't or don't want to enact one of the improvement actions, you can choose to accept the risk or remaining risk.
Assistance With Security and Managing Risk
i.t.NOW works hard to keep our client's data safe and secure. Microsoft Secure Score is an awesome tool, but its only as good as the person using it, and the plan of action that accompanies it. Security is constantly evolving and requires consistent attention and care.
If your team doesn't have the resources to successfully secure your Office 365 offerings and other data, i.t.NOW can help. Our team of experts can take security off your plate and work on your behalf. That way you can worry less about security and focus more on your business. Give us a call today!